Description
Smart DSP is proud to present H-Racks Presets Pack brought to you by Evan Hays.
This Pack is a collection of 20 instruments & effects racks from the Ableton Live 10 Optimized content of H-BANK003 Presets Pack.
Along the H-BANK v3 update, all of its content has been updated and we've added 2 NEW racks and 1 exclusive max for live device.
Includes :
Instruments – 2 racks : Versatile (Bass Synth) & Reflections (Soft Lead).  | Updated + Sound Presets
Mixing – 8 updated racks including two channel strips (Modern & Vintage), Reverbs & Delays presets, Drums & Vox chains and experimental sound design rack.
–  2 NEW racks: Kick processing rack, Highs Exciter rack.
Mastering – All 6 updated mastering racks from HB3 presets pack are included.
From Quick Pre-master to In-Depth Mastering chains as well as independent modules racks such as dual stages compressor, refined color & saturation manager and intuitive Input & Tonal shaping EQ.
NEW Max for Live exclusive device: SDSP Sublimer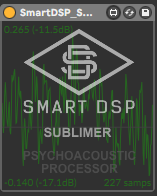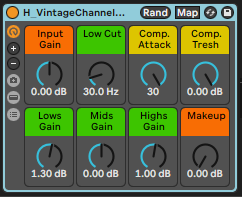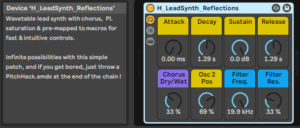 As well as :
– Future updates – all future updates are available for free to pack owners.
– Pack support – ask your questions related to the pack content and its use at any time.
Notes :
To fully enjoy this pack, you need at least Ableton Live 10.1.x Suite.  However no third party plugins are required.
We will offer crossgrade options to H-BANK 3 upon request and along special events.
If you have any questions you would like to ask before purchasing or any suggestions, feel free to contact us.
Some of H_Racks content is covered in the H-BANK v3 Demo/Review Video (Watch on YouTube to enjoy the timestamps !) :