Cyber Monday: 20% off any order!
Apply the code " SDSPXCM " at checkout.
Code valid until December 04th.
Smart Racks – Effect Racks & Presets for Ableton Live
15 Effect Racks and over 100 original presets for music production and mixdown with Ableton live. Made by Elliott Sebag, audio specialist with hundreds of mix and mastering credits, including top charters.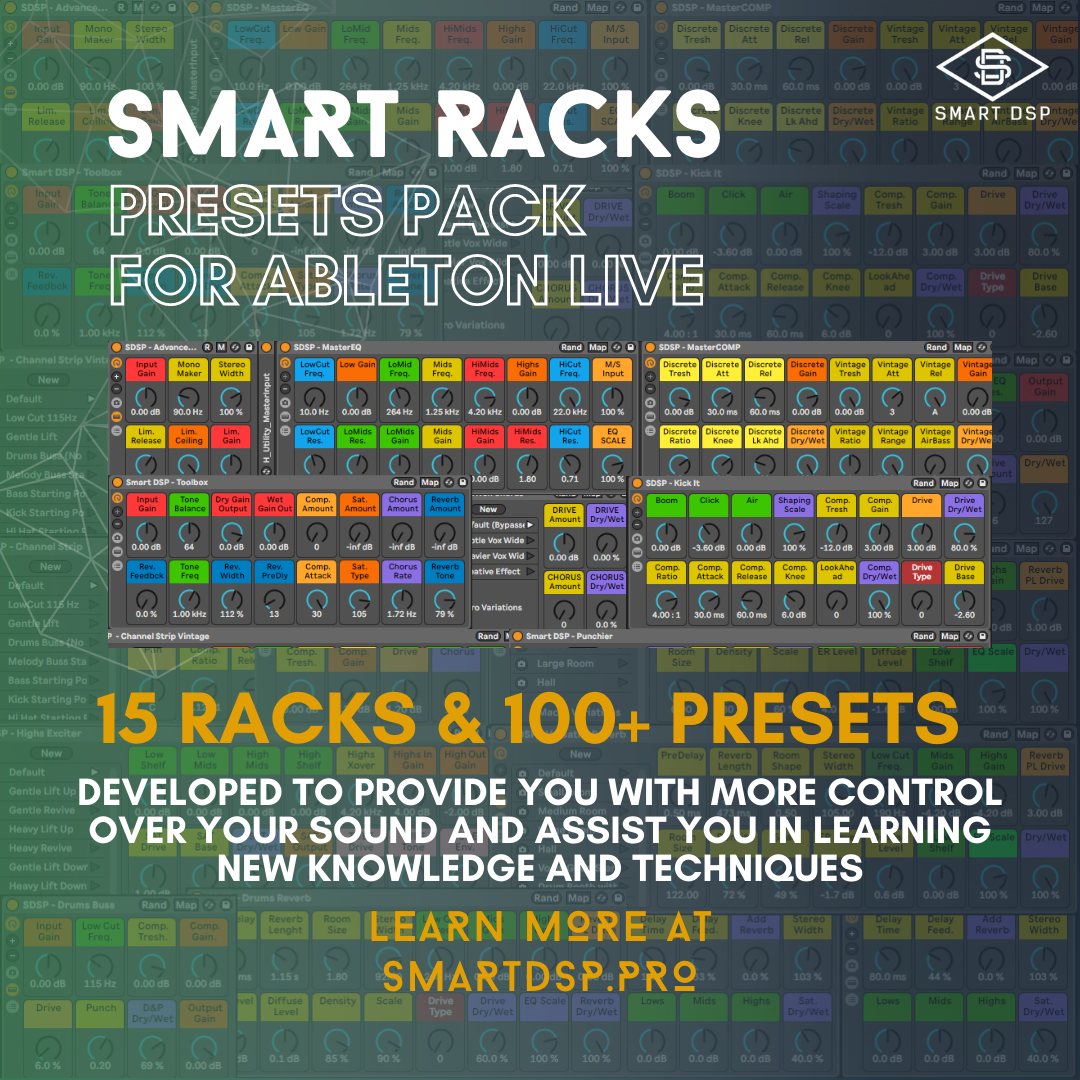 Smart Racks Effect Racks & Presets Pack for Ableton Live 11 (also includes a Live 10 version).
Developed to provide you with more control over your sound and assist you in learning new knowledge and techniques, Smart Rack full edition includes:
– 15 mixing & mastering effect racks
– Over 100 individual effect presets
Smart Racks is born from the H-BANK legacy!
H-BANK is a series of products developed throughout Live 9 & 10 with a small Live 11 extension added later.
Although it remains useful and functional for exisiting users, we've decided to discontinue this product line which will no longer receive any updates. (Exisisting owners will still be able to download it from their account.)

Smart Racks provides you with the best from H-BANK, fully refined for Live 11 along with the addition of new polyvalent racks. It results in a great resource for producing music, learning how to mix and achieve a better sound for your projects, faster.
15 Effect Racks & Over 100 Effect Presets for music production, mixing and pre-mastering in Ableton Live!
Pack Highlights:
NEW! Punchier

A powerful rack taking advantage of advanced mapping to enable processing otherwise longer to create, making it easy to make any source punchier while further shaping which frequency bands to process more or less.
This rack was inspired by things such as Oeksound Spiff & Soothe2 and SPL Iron.
NEW! Toolbox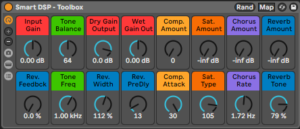 Versatile Rack featuring Tilt EQ, Parallel Compression, Saturation, Reverb and Chorus along with useful controls. Useful for subtle adjustments as to drastically make a sound more interesting or wilder.
Channel Strip & Channel Strip Vintage

The infamous H-BANK3 Channel Strip & Channel Strip Vintage, a must have for any Live user!
Kick It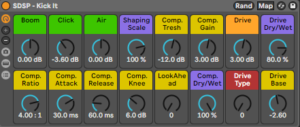 Your perfect weapon to shape and beef-up your Kick in a matter of seconds!
Drums Buss

The ideal chain to tighten and further shape your drums.
Versatile Reverb

A versatile reverb rack with snapshot presets ready to go.
Simple & Advanced Mastering Chains


Dive deeper into the tools and possibilities when it comes to mastering using those two chains with various level of complexity. The advanced chain features M/S EQ, Dual-Stage Compression, Parallel Saturation with 2 different types of color along with detailed Info Text for each Racks and Macro.
Individual Presets as Snapshots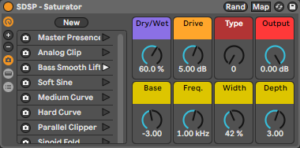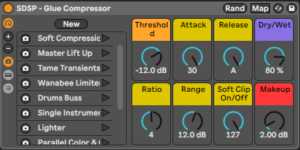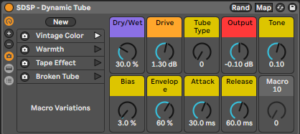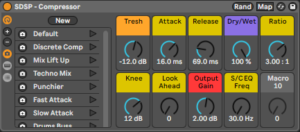 Smart Racks also provides you with over 100 quality presets of individual effects clearly named. More than half of those presets are included as snapshots within 1 instance of the device in the Live 11 version such as those Compressor, Glue Compressor, Saturator and Dynamic Tube for example.
Info Text are included for most presets, racks and macros, at least all the ones that are not self explanatory or a bit complex.
You can always contact us via our contact form or on our discord for any question.
Requirements & Compatibility Notes:
To fully enjoy this pack, you need at least Ableton Live Suite 11.x.
However, an Ableton Live Suite 10.1.x is also included (you get access to both separate download upon purchase).
The Live 10 version features most of the content at the exception of the 2 racks: Punchier & Toolbox.
Finally, no third party plugins are required.
Smart Racks is a great resource for producing electronic music, learning how to mix music and achieve a better sound for your projects.
If you have any questions you would like to ask before purchasing or any suggestions, do not hesitate to contact us.
Also included:
Future updates - all future updates are available for free to Smart Racks owners.
Smart DSP support - ask your questions related to the pack content and its use at any time.