Q: Who are you? Where are you from? And where are you going?
A: I'm Zran, a beatmaker and composer from Lyon, France, now living in Montreal, Canada. I write, rap and produce in my own rap band since twenty years and I've also been working in solo since three years. But creating music it's not exactly what I'm doing for a living. I'm a Sound Designer in the video game industry, but my work helps to progress as a composer. I hope to have the opportunity to create music for video games in a close future.
Q: What brought you to music production? Why are you loving it?
A: At first, I played transverse flute when I was a kid before integrating a choir for 4 years. It took me time to understand that what my favorite thing is to create music, not perform it. So I took piano lessons for 5 years with the purpose of using my synthetiser as a tool to find more melodies and harmonies.
I also studied music theory for 8 years in musical's school and Lyon's conservatory.
As a young teenager, I used to write and rap in solo before meeting my best friend. At the time, we really wanted to have our own sound and I started to use basic musical's software like Hip-Hop eJay *laugh*. Progressively, I went to Acid Pro and Cubase and never dropped the last one. At the time, well, my music was shitty but I was quite involved in to it anyway. But I understood that I really wanted to do music for living the day I watched the DVD "Au coeur d'IAM", which is a "Making Of" of the famous rap band IAM's fourth album "Revoir un printemps". Their boiling creativity really amazed me and gave me the desire to live the same thing. 
Q: For how long have you been producing? And what are the main pieces of your setup? 
A: I've been producing since I'm 12 years old and I'm now 33. However, I only started to feel confident enough in my work maybe less than 10 years ago. And I'm still considering myself as a learner who has so many things to do to progress!

A: A PC, Cubase Pro 11 (for composition), Ableton (for sampling), Pro Tools (for mixing), a MIDI Arturia Keylab 49, a U-Phoria UMC1820 sound card, a DT-770 Pro and two Fostex PM 0.5 MKII. And a lot of soundbanks, obviously! And I'm secretly dreaming of the MPC Live II (I used to create my beats on a MPC 1000 long time ago).
Q: How do you see (and go through) the technical sides of production and especially the Mixdown stage?
A:  I have much more interests in composition and arrangements than mix honestly. I also love to create sound textures but I'm not patient enough to tweak softwares and plugins during hours and hours because the writing is for me the most essential part of the music, even though I really love sound's experimentations. So generally, I provide tracks completed and almost mixed to a sound engineer for the final touch, and I guide him to obtain some things which would take me hours to find. I have so much respect for people able to understand some weird demands of the artists, I wouldn't be able to do that!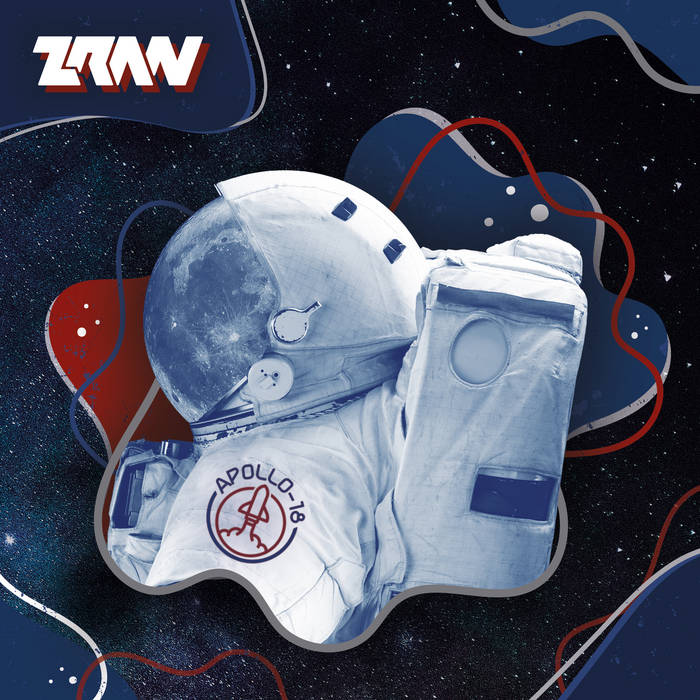 Q: What's your latest release? And do you have any upcoming projects?
A: My last release is a six titles' EP named "Apollo 18". I worked on it like a year and I'm particularly proud to have been able to gather and lead brilliant musicians on this project. It's a small concept album telling the story of an imaginary eighteenth Apollo's mission, from the Earth to the Moon. Titles and lyrics of the two songs, and obviously the composition themselves are to guide you and understand the story, till the last cliffhanger! Be sure to check it!
For the future, I'm actually gathering some ideas for a future project, probably more in a Trip-hop vibe this time. But it's really too soon to talk about it. And I also planned to create an electro-pop album with a friend from Montreal, who comes from folk and jazz music. Trying to mix up our universes could be really fun and challenging at the same time and I'm myself really curious to see what could arise from it.
Q: Anything else you would like to share, maybe for people beginning music production out there?
A: Be sure to find tools adapted to your needs as soon as possible, don't be afraid of testing stuff or watching tutorials on Youtube. Creating with friends is the best way to keep your motivation and the will of progressing when you feel uninspired sometimes. And more than anything else, never lose sight to create music for you first, not for recognition.
Q: To finish with some music, what's your favorite track those days ? 
 A: It's not a track in particular but I'm listening to the soundtrack of the video game "Fantasian", recently released on Apple Arcade, which has been composed by my favorite composer ever, Nobuo Uematsu. You probably know him as "the composer of the Final Fantasy's series". In my humble opinion, he is one the best melodist in the world and listening to his music always warms my heart.
More Articles & Interviews