Description
This Pack is a FREE collection of 6 audio effects racks from the Ableton Live 10 Optimized content of H-BANK003 Presets Pack.
Along the H-BANK v3 major update, its content has been updated and we've added 3 extra racks.
NEW: Now also includes a Live 11 extension including 3 updated racks, taking advantage of extended macros, snapshots…



Includes :
Vox processing rack
Vox reverb rack
Kick processing rack
Channel strips racks (Modern & Vintage),
Experimental sound design rack,
Quick Pre-master & Simple Mastering racks,
Slapback Delay effects rack.+ NEW Live 11 Extension which includes versions updated for Ableton Live 11 of the following  three racks:
Channel & Vintage Channel Strips, H_VoxReverb.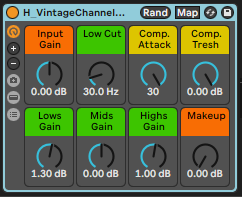 Notes :
To fully enjoy this pack, you need at least Ableton Live 10.1.x Suite.  However no third party plugins are required.
We will offer crossgrade options towards more advanced packs upon request and during regular special events.
If you have any questions you would like to ask before purchasing or any suggestions, feel free to contact us.
Some of H_Racks content is covered in the H-BANK v3 Demo/Review Video (Watch on YouTube to enjoy the timestamps !) :